CAMA-SM25 is an OEM optical fingerprint module for secondary development which has integrated fingerprint sensor and processor chip together. It has many outstanding features like auto-learning,360 degree verification,touch sense activation etc. It is one of best OEM optical fingerprint module developed by CAMA Biometrics. And It is a high accuracy OEM optical fingerprint module which can be widely used for time attendance, access control,door lock,etc
Product Features

# 3000 fingerprints capacity
# 360 degree identification
# Auto-learning function
# Touch sense activation
# Fast identification speed
# Support 1:1: and 1:N verification
# FAR<0.001% FAR<0.1%
# Anti-scratch prism



Product Specifications

| | |
| --- | --- |
| Item | Description |
| Product Name | CAMA-SM25 OEM Optical Fingerprint Module |
| Fingerprint Sensor | CAMA optical fingerprint sensor |
| Fingerprint Scan Area | 18mm x 22mm |
| Fingerprint Image | 242 pixel x 266 pixel |
| Fingerprint Image Resolution | 500 DPI |
| Fingerprint Template | 496 bytes |
| Communication Interface | UART (3.3V) |
| FRR | <0.1% |
| FAR | <0.001% |
| Identification Speed | 1:1<0.5s; 1:N(2000 fingerprints) <0.9s |
| Fingerprint Capacity | 3000 Fingerprints |
| Work current | < 150mA |
| Standby current | < 20μA |
| Power supply | DC 3.3V |
| Working temperature | -20℃- 60℃ |
| Working humidity | 20%-80% |
Product Size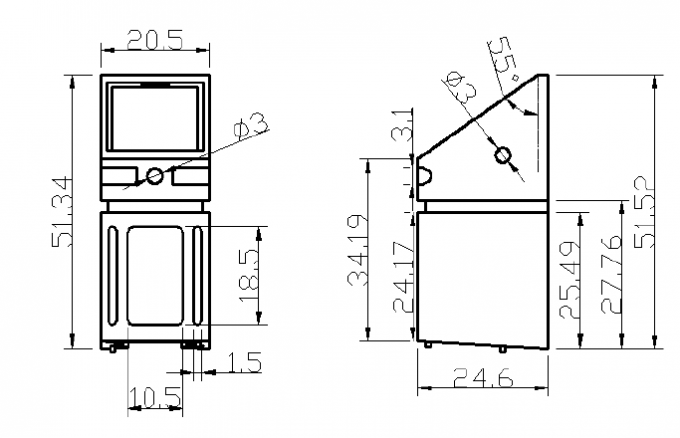 Interface Details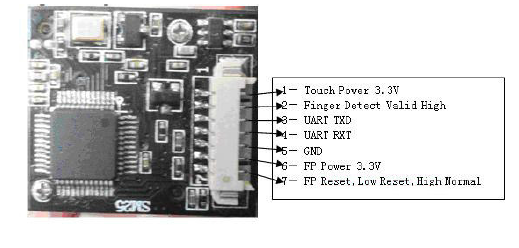 Pin No.

Signal Name

Signal Description

PIN 1

Touch Power
3.3V

Touch sense function need to supply power separately. Power: DC3.3V±0.1V, Current: 1.5uA to 2.5uA

PIN 2

Finger Detect

Output high level when detected finger, and output low level once finger left

PIN 3

UART-TX

Module transmit output, 3.3V TTL logic

PIN 4

UART-RX

Module receive input, 3.3V TTL logic

PIN 5

GND

GND

PIN 6

VIN

DC input, range of Voltage is 3.3V ± 10%

PIN 7

FP Reset

Reset at low level (reset time>100ms), Work at high level. After Reset, it will cost about 350-400ms for system initializing and programs loading; Only after that the module can communicate with MCU by UART.

Technical Support
To support you electronic engineers to do developing works, CAMABIO will provide you following materials after you bought the product
1. User Manual of CAMA-SM25 ( Command Protocols Included)
2. DEMO Software For Testing Purpose
3. Sample Code For Micro controller Unit
If you have any technical questions before you buy CAMA-SM25 OEM optical fingerprint module, you can contact cama@szcama.com for support.

Where you can use this product?

CAMA-SM25 OEM optical fingerprint module can be widely used for following products
1. Fingerprint door lock system
2. Biometric access control system
3. Biometric time attendance system
4. Fingerprint car starter
5. Fingerprint safe box lock
6. Fingerprint car fleet management system

FAQs About CAMA-SM25 OEM Optical Fingerprint Module

1. Does the SM25 OEM optical fingerprint module support Windows, Android or Linux system?
Answer: Yes, SM25 optical fingerprint module can work with these operating system. Actually SM15 optical fingerprint module is an OEM optical fingerprint module, it can work with any operating system based on our command protocol.

2. Does the SM25 OEM optical fingerprint module support read and write fingerprint template ?
Answer: Yes, SM25 optical fingerprint module support read and wrtie fingerprint template . If you need, you can use Read Template Command to extract the fingerprint templates from SM25 module and use Write Template Command to write the fingerprint templates into SM25 module from other place.

3. Does the SM25 OEM optical fingerprint module's template data compatible with other manufacturer's fingerprint template data?
Answer: No. SM25 optical fingerprint module only support CAMABIO fingerprint template format, it does not compatible with other manufacturer's fingerprint template format.

4. What should we do if we need more than 3,000 fingerprint users ?
Answer: We suggest you to build a server system by our CAMA-2000 Desktop USB fingerprint scanner and store the fingerprint templates on the server. And the terminal device with SM25 only for capturing fingerprint and transfer the fingerprint template to server to do verification and then return the result to terminal device.



Tags: OEM fingerprint module,fingerprint oem module, oem optical fingerprint module,oem optical fingerprint sensor,fingerprint sensor module,oem fingerprint reader, oem fingerprint scanner,China oem fingerprint manufacturer, oem fingerprint module manufacturer,fingerprint module manufacturer